1980-1983: Photos, JB.
1980-1983, Photos from the John Burroughs Jr. High School Amateur Radio Club, W6TDM
1981-1982, Burr, Faculty Photo
The 1981-1982 Burr featured two faculty photos of Ted. Note the differences in appearance beyond photographic technique - which may have ben indicative of Ted's condition.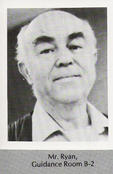 1981, Computer and Radio Club
This is the last artifiact of anything to do with an amateur radio club.